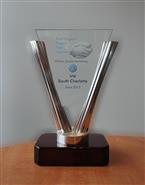 Volkswagen of South Charlotte is proud to be one of the select dealers named to the ProFI (Product Field Information) program. This program is designed to be the eyes and ears the group when it comes to Volkswagen product quality. We have a direct...

Just as Volkswagen is lending its support to the National Mall, Volkswagen of South Charlotte is supporting the community close to home. Recently we sponsored the annual Spring Carnival for Ivybrook Academy in Fort Mill. Volkswagen of South...
Volkswagen of South Charlotte ranks 69th in the nation
At the Volkswagen of South Charlotte service department, our technicians focus on taking care of our customers' problems the first time they come in. We think this dedication is one of the many things that keeps our customers coming...
Volkswagen's gift will help protect America's most-visited national park
The National Mall is America's most visited national park, and protecting this historic site for the next generation is an important responsibility. Earlier this month, the Trust for the National Mall—the National Park Service...
A look at some of the features that make the 2013 Volkswagen CC a very cool car
Increase your fuel efficiency and avoid punctures by following these tips
A look at the simple steps required to check your tires' air pressure.
Whether you plan to spend the summer at home or where your college is, it's important that you spend your summer doing something besides sleeping in and going to the pool. This article has a great list of ways college students can spend their summers working.
An atmosphere of relaxed hospitality is the key to successfully hosting any perfect meal. That means thinking well ahead to plan a menu that requires little last-minute attention and frees you to enjoy your guests. Brunch makes a delightful choice...
Construction Continues!
We have great things in store!
Driving Directions
Sales Dept. Hours
Mon-Fri: 9:00 am – 8:00 pm
Sat: 9:00 am – 7:00 pm
Sun: 12:00 pm – 5:00 pm
Service Dept. Hours
Mon-Fri: 7:30 am – 6:00 pm
Sat: 8:00 am – 3:00 pm
Sun: Closed